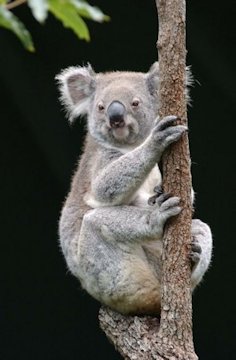 Misnomers in American English - 6
Type of Misnomer : Difference between popular and technical meaning
Koala Bears - The word koala comes from the Dharug gula. Although the vowel 'u' was originally written in the English orthography as "oo" (in spellings such as coola or koolah), it was changed to "oa", possibly in error. The word is mistakenly said to mean "doesn't drink." Because of the koala's resemblance to a bear, it was often miscalled the koala bear, particularly by early settlers. Other names like monkey bear, native bear, and tree-bear have also been used. Indigenous names include cullawine, koolawong, colah, karbor, colo, coolbun, boorabee, burroor, bangaroo, pucawan, banjorah, and burrenbong; many of these mean "no drink". The generic name, Phascolarctos, is derived from the Greek words phaskolos "pouch" and arktos "bear". The specific name, cinereus, is Latin for "ash colored."
Fish - Jellyfish and starfish are not even closely related to fish (although jellyfish do have a gelatinous structure similar to jelly). As jellyfish are not vertebrates, let alone true fish, the word jellyfish is considered by some to be a misnomer.
Nuts - A peanut is not a true nut in the botanical sense, but rather a legume. Similarly, a coconut is not a true botanical nut. Culinary usage of the term is less restrictive, and some nuts as defined in food preparation, like almonds, pecans, pistachios, walnuts, and Brazil nuts, are not nuts in a botanical sense. Common usage of the term often refers to any hard-walled, edible kernel as a nut.
Berries - Several fruit that are not true berries include strawberries, raspberries, and blackberries, and bayberries. Technically, the strawberry is an aggregate accessory fruit, meaning that the fleshy part is derived not from the plant's ovaries but from the receptacle that holds the ovaries. Each apparent "seed" (achene) on the outside of the fruit is actually one of the ovaries of the flower, with a seed inside it.