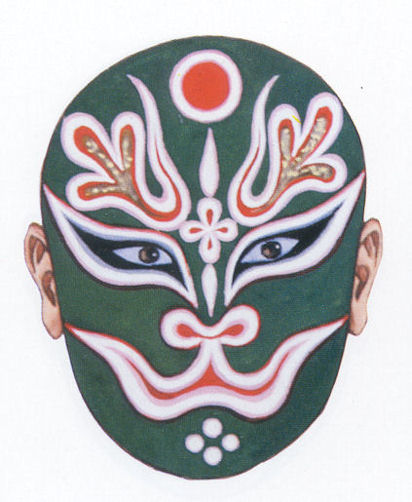 272 Beijing Opera Masks - Deer Child - Number 270

Deer Child

<! Book >

Beijing Opera - "Stealing the Magic Herb"

Deer Child with a green symbolic face is a fairy in the opera "Stealing the Magic Herb," adapted from an episode in the "Legend of Leifeng Pagoda." On the Dragon Boat Festival one year, Xu Xian (see Mask 269) offers his wife, the White Maid some wine.. Unable to resist her husband's persuasion, she drinks a bit too much and is transformed back into a white snake. Her husband drops dead from fright, and she hurries to the Kunlin Mountains to steal a magic herb to revive him. Two guardians of the mountains, Deer Child and Crane Child discover her but she fights them off. They report to their master, Old Fairy of the South Pole, who comes and arrests the girl. But when he learns why she is there, he takes pity on her and give her some of the life-restoring herb, with which she returns and revives her husband.