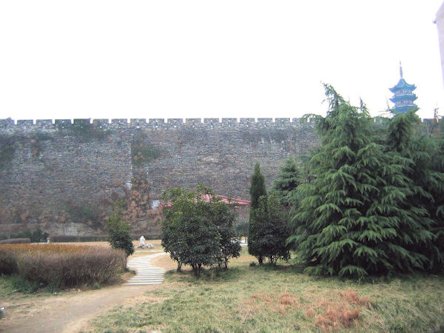 Nanjing, the capital of Jiangsu Province and ten dynasties in the history, is located on the southern bank of the Yangtze River, the longest river in China, and 300 kilometers away from the river mouth to the East China Sea. Surrounding the city is a 33.7km-long ancient city wall. With a height and top width ranging from 14 meters to 21 meters, it was the longest preserved in the world. As a huge ancient project and the pride of Nanjing's people, the wall began to be built in 1366 and completed in 1386.
The wall is the most telling witness of the history and the crystallization of science, technology, military, architecture and art. The City and Chinese Emperor The city as one of the special products of Chinese culture occupied an important position in the development of Chinese culture. The city wall was a military defensive project to defend the city. Most were built of bricks, stone and earth.
Nanjing city wall was designed by Emperor Zhu Yuanzhang after he founded the Ming Dynasty (1368-1644) and established it as the capital 600 years ago. To consolidate his sovereignty and keep out invaders, he adopted the suggestions of advisor Zhu Sheng to building a higher city wall, collecting grains and postponing the coronation. Then, he started to build the city wall. It took 21 years for the project, which involved 200,000 laborers to move 7 million cubic meters of earth.
Different from ancient city walls in Beijing and Xi'an, its design and construction were unique and changed the old ways of equilibrium and symmetry. The construction concentrated on military defense because the city was at the foot of a mountain-- a natural barrier to control the commanding elevation with the river as its natural city moat. Because of this, the 60-square-kilometer Nanjing city became strategically located and difficult to reach. Pan Guxi, an expert of architecture and professor in Nanjing Southwestern University, introduced the idea to Beijing and Xi'an.
Hi-Res Pic (185K)
On to Page 13
Back to Page 11
Back to Nanjing Scenes Page 2