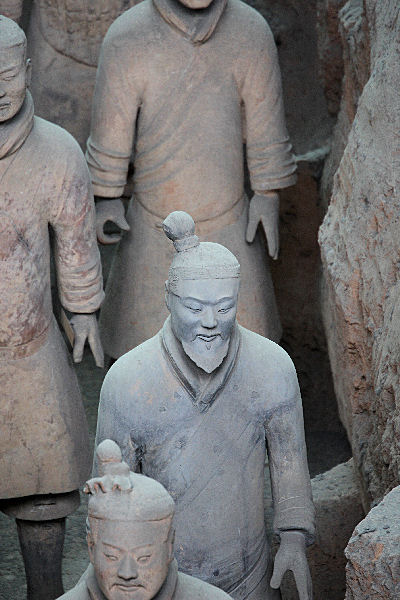 Terracotta Warriors in Xi'an
20. Little Color Remains
The State Council authorized to build a museum on site in 1975. Xi'an and the Museum of Qin Terracotta Warriors and Horses have become landmarks on all travelers' itinerary.

Life size terracotta figures of warriors and horses arranged in battle formations are the star features at the museum. They are replicas of what the imperial guard should look like in those days of pomp and vigor.

The museum covers an area of 16,300 square meters, divided into three sections: No. 1 Pit, No. 2 Pit, and No. 3 Pit respectively. They were tagged in the order of their discoveries. No. 1 Pit is the largest, first opened to the public on China's National Day, 1979. There are columns of soldiers at the front, followed by war chariots at the back.
On to Page 21
Back to Page 19
Hi-Res Pic (133K)
Back to Terracotta Army - Page 3