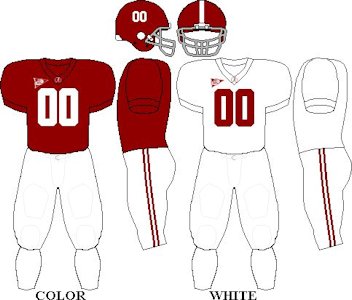 School Colors
University of Alabama Color
University of Alabama - #A32638
Alabama Crimson, along with white, is an official color for the University of Alabama and its athletic teams, the Alabama Crimson Tide.

The University of Alabama's intercollegiate athletic teams are known as the Alabama Crimson Tide (this name can be shortened to Alabama, the Crimson Tide, or even the Tide). The nickname Crimson Tide originates from a 1907 football game versus Auburn University in Birmingham where, after a hard-fought game in torrential rain in which Auburn had been heavily favored to win, Alabama forced a tie. Writing about the game, one sportswriter described the offensive line as a "Crimson Tide", in reference to their jerseys, stained red from the wet dirt.

The University of Alabama (UA) is a public coeducational university located in Tuscaloosa, Alabama, United States. Founded in 1831, it is the flagship university of the University of Alabama System, as well the senior and the largest in terms of enrollment among all of the universities in Alabama.