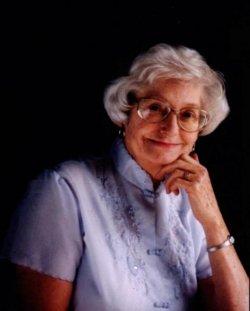 Bernice Noll Biography, 2014
Education:

1951 Linfield College, BA Degree.
1952 Lewis and Clark College, Oregon teaching credential.
1954 University of Oregon, Masters Degree Program, English and Communications
Experience:
1953 Taught High School at Portland, Oregon.
1954 Taught High School at The Dalles, Oregon. I taught foreign languages.
1955 Office Manager, U.S. Army Supply Depot at Alameda, California.
1956-57 Manager Capwell's Department Store, Oakland, California.
1977-85 Vice-President of Paul Noll and Associates, a computer educational and consulting service.
1984-85 Taught Oral English and American Culture at Academia Sinica, Chengdu Branch, Chinese National Academy of Sciences to scientists. I have traveled extensively on business and as an independent tourist throughout China.
1986-98 President of Paul Noll and Associates
1987-88 Taught Oral English and American culture at Academia Sinica, Chengdu Branch, Chinese National Academy of Sciences to scientists.
1989 Taught Oral English classes in Thailand.
1994-95 Taught Oral English at Lujiang University in Xiamen to first, second and third year Chinese students.
1998-99 Taught Oral English at SIAS University of Business and Management in Xinzheng, China.
1998-99 Taught Oral English at Keming and Jingmi Private Middle schools, grades 1st through high school.
I worked as Vice-Principal of Guanghua Private School in Wuhan, China (4,000 students).
2000-2002 My husband and I have lectured on China and Chinese history and culture for many groups including the University of Oregon. In 2002 we taught again at SIAS University. We also traveled to Hefei and Huangshan Mountain.
2004 Worked as Assistant Vice-President at SIAS City College in Zhengzhou, Henan, China
Business, 1977-1990:
My husband and I ran our own company training programmers how to design and code COBOL Programs. We have trained over 8,000 programmers how to use better methods of programming and design. We also train clients to use computers and to use software. Some of our clients include: Bank of America, Levi Strauss, Federal Reserve Bank, Army/Air Force Exchange Service, State of Idaho, Acme Markets, Wal-Mart, and Federal Mogul.

Outside Activities:

I have co-authored three books for teaching Oral English to Chinese University Students.
I have traveled to some 40 countries setting up computer educational seminars and training for Paul Noll and Associates. I have dealt with many large corporations and Countries assisting them with their computer educational needs.
I act as copilot and navigator for our Company plane when traveling.

Personal:
I was born in Eugene, Oregon in 1929. I am married and have 2 sons 57, and 54. In October 22, 2014 Bernice was diagnosed with lymphatic leukemia and died on November 26, 2014.
Contact my Husband Paul Noll

at: pn@paulnoll.com