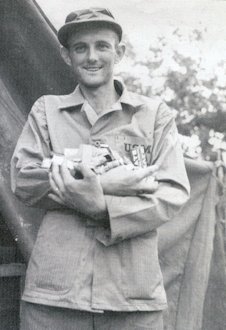 Stories from the Chosin Reservoir, 1950
Chosin POW - Page 1
M/Sgt. Len Maffioli US Marine
Captured 28 November 1950 by the Chinese, He managed to escape
On the twenty-eighth of November 1950, I was in a convoy in the Chosin Reservoir that was completely surrounded by Chinese troops, who were aiding the North Koreans. We all hopped out of our trucks and got into ditches, and the Chinese were all over us. We fought them off for twelve hours, but we had an awful lot of dead and dying in the ditches, so we eventually had to surrender. At just about dawn, I was breaking my carbine over the bumper of my truck, smashing it to ruin the mechanism (we did this to avoid giving it to the enemy), and I felt a tap on my back. I turned around and this little Chinese guy --- he couldn't have been more than five feet two or three -- was standing there with a submachine gun slung over his shoulder, and he stuck his hand out to congratulate me for surrendering.

We had heard about the North Koreans, and that they were just as apt to execute a prisoner as they were to imprison them. But the Chinese fighting them were different. They had the idea that they going to put us through a political indoctrination course -- what some people called a low-power brianwashing course --- and actually convert us to their cause. They rounded up 123 of us and started us off on what was to be a 120-mile walk to another camp of the northwestern border of North Korea. It took us almost twenty day to get there and we didn't have much to eat except boiled potatoes. A lot of the men were getting stomach problems or severe colds, but they just kept marching us. When we got to the camp, there was only 100 of us left.

They let us rest for about two days. Then, on December 24, they threw us a Christmas party. They had actually gone out and cut down a pine tree and decorated it with pieces of colored paper. They handed each of us a few pieces of candy, five or six salted peanuts, and a tailor-made cigarette --- these were our Christmas presents. And then they started this bit where wanted us to get up and make confessions. This was a big deal in Communist brainwashing, to confess your sins.

Maffioli, the day after his escape, holding cigarettes, candy, and toiletries given by the Red Cross. But don't ask him to donate to that agency. All of the gifts were stripped from him as soon as the pictures were taken to show the home front how wonderful the organization is to our boys in uniform, especially to heroes.
On to POW story - Page 2
Return to Chosin Few Story Choices