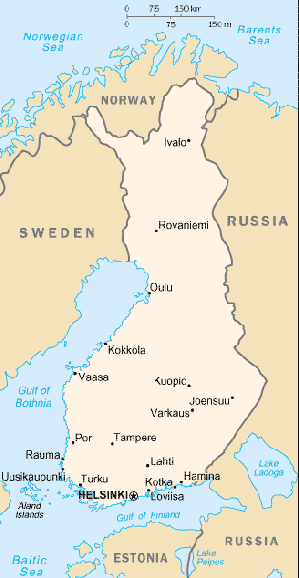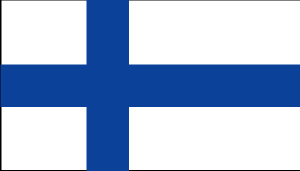 Finland
Background: Ruled by Sweden from the 12th to the 19th centuries and by Russia from 1809, Finland finally won its independence in 1917. During World War II, it was able to successfully defend its freedom and fend off invasions by the Soviet Union and Germany. In the subsequent half century, the Finns have made a remarkable transformation from a farm/forest economy to a diversified modern industrial economy; per capita income is now on par with Western Europe. As a member of the European Union, Finland was the only Nordic state to join the euro system at its initiation in January 1999.
Location: Northern Europe, bordering the Baltic Sea, Gulf of Bothnia, and Gulf of Finland, between Sweden and Russia. Area: Total: 337,030 sq km, water: 31,560 sq km, land: 305,470 sq km. Area - comparative: Slightly smaller than Montana. Land boundaries: Total: 2,628 km, border countries: Norway 729 km, Sweden 586 km, Russia 1,313 km. Coastline: 1,126 km (excludes islands and coastal indentations).
Climate and Terrain: Climate: Cold temperate; potentially subarctic, but comparatively mild because of moderating influence of the North Atlantic Current, Baltic Sea, and more than 60,000 lakes. Terrain: Mostly low, flat to rolling plains interspersed with lakes and low hills. Natural resources: Timber, copper, zinc, iron ore, silver.
People: Population: 5,183,545. Ethnic groups: Finn 93%, Swede 6%, Sami 0.11%, Roma 0.12%, Tatar 0.02%. Religions: Evangelical Lutheran 89%, Russian Orthodox 1%, none 9%, other 1%. Languages: Finnish 93.4% (official), Swedish 5.9% (official), small Lapp- and Russian-speaking minorities.
Government: Government type: Republic. Capital: Helsinki. Independence: 6 December 1917 (from Russia).
Economy overview: Finland has a highly industrialized, largely free-market economy, with per capita output roughly that of the UK, France, Germany, and Italy. Its key economic sector is manufacturing - principally the wood, metals, engineering, telecommunications, and electronics industries. Trade is important, with exports equaling almost one-third of GDP. Except for timber and several minerals, Finland depends on imports of raw materials, energy, and some components for manufactured goods. Because of the climate, agricultural development is limited to maintaining self-sufficiency in basic products. Forestry, an important export earner, provides a secondary occupation for the rural population.
Statistics: GDP - composition by sector: Agriculture: 3%, industry: 28%, services: 69%. Telephones - main lines in use: 2.861 million. Telephones - mobile cellular: 2,162,574. Radio broadcast stations: AM 2, FM 186. Radios: 7.7 million. Television broadcast stations: 130 (plus 385 repeaters). Televisions: 3.2 million. Internet users: 2.27 million. Railways: Total: 5,865 km. Highways: Total: 77,831 km. paved: 49,789 km, unpaved: 28,042 km. Airports: 160, with paved runways: 73, with unpaved runways: 87.
Detail Map and Info on Finland
Return to Visiting Locations