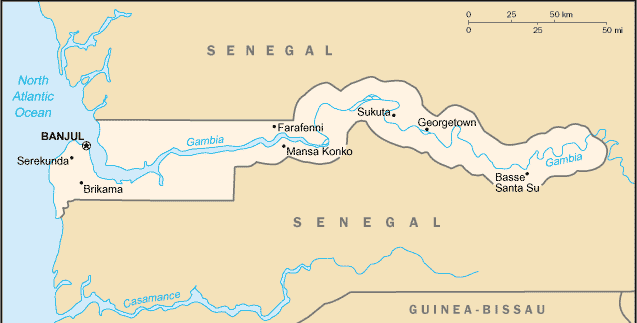 The Gambia
Background: The Gambia gained its independence from the UK in 1965; it formed a short-lived federation of Senegambia with Senegal between 1982 and 1989. In 1991 the two nations signed a friendship and cooperation treaty. A military coup in 1994 overthrew the president and banned political activity, but a 1996 constitution and presidential elections, followed by parliamentary balloting in 1997, completed a nominal return to civilian rule. The country undertook another round of presidential and legislative elections in late 2001 and early 2002.
Location: Location: Western Africa, bordering the North Atlantic Ocean and Senegal. Area: Total: 11,300 sq km, land: 10,000 sq km, water: 1,300 sq km. Area - comparative: Slightly less than twice the size of Delaware Land boundaries: Total: 740 km, border countries: Senegal 740 km. Coastline: 80 km.
Map and Info on The Gambia
Return to Visiting Locations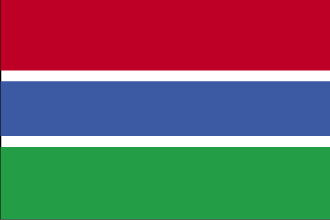 Climate and Terrain: Climate: Tropical; hot, rainy season (June to November); cooler, dry season. Terrain: Flood plain of the Gambia River flanked by some low hills. Natural resources: Fish.
People: Population: 1,501,050. Ethnic groups: African 99% (Mandinka 42%, Fula 18%, Wolof 16%, Jola 10%, Serahuli 9%, other 4%), non-African 1%. Religions: Muslim 90%, Christian 9%, indigenous beliefs 1%. Languages: English (official), Mandinka, Wolof, Fula, other indigenous vernaculars.
Government: Government type: Republic under multiparty democratic rule. Capital: Banjul. Independence: 18 February 1965 (from UK).
Economy overview: The Gambia has no important mineral or other natural resources and has a limited agricultural base. About 75% of the population depends on crops and livestock for its livelihood. Small-scale manufacturing activity features the processing of peanuts, fish, and hides. The government's 1998 seizure of the private peanut firm Alimenta eliminated the largest purchaser of Gambian groundnuts; the following two marketing seasons have seen substantially lower prices and sales. A decline in tourism in 2000 has also held back growth.
Statistics: Telephones - main lines in use: 31,900. Telephones - mobile cellular: 5,624. Radio broadcast stations: AM 3, FM 2. Radios: 196,000. Television broadcast stations: 1. Televisions: 5,000. Internet users: 5,000. Railways: 0 km. Highways: Total: 2,700 km, paved: 956 km, unpaved: 1,744 km. Airports: 1.