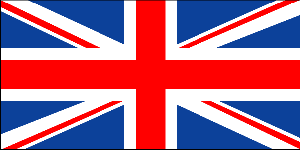 United Kingdom
Background: Great Britain, the dominant industrial and maritime power of the 19th century, played a leading role in developing parliamentary democracy and in advancing literature and science. At its zenith, the British Empire stretched over one-fourth of the earth's surface. The second half witnessed the dismantling of the Empire and the UK rebuilding itself into a modern and prosperous European nation. As one of five permanent members of the UN Security Council, a founding member of NATO, and of the Commonwealth, the UK pursues a global approach to foreign policy; it currently is weighing the degree of its integration with continental Europe.
Location: Western Europe, islands including the northern one-sixth of the island of Ireland between the North Atlantic Ocean and the North Sea, northwest of France. Area: Total: 244,820 sq km, water: 3,230 sq km, note: includes Rockall and Shetland Islands, land: 241,590 sq km. Area - comparative: Slightly smaller than Oregon. Land boundaries: Total: 360 km, border countries: Ireland 360 km. Coastline: 12,429 km.
Climate and Terrain: Climate: Temperate; moderated by prevailing southwest winds over the North Atlantic Current; more than one-half of the days are overcast. Terrain: Mostly rugged hills and low mountains; level to rolling plains in east and southeast.
People: Population: 60,270,708. Ethnic groups: English 81.5%, Scottish 9.6%, Irish 2.4%, Welsh 1.9%, Ulster 1.8%, West Indian, Indian, Pakistani, and other 2.8%. Religions: Anglican and Roman Catholic 40 million, Muslim 1.5 million, Presbyterian 800,000, Methodist 760,000, Sikh 500,000, Hindu 500,000, Jewish 350,000. Languages: English, Welsh (about 26% of the population of Wales), Scottish form of Gaelic (about 60,000 in Scotland).
Government: Government type: Constitutional monarchy. Capital: London.
Economy overview: The UK, a leading trading power and financial center, is one of the quartets of trillion dollar economies of Western Europe. Over the past two decades the government has greatly reduced public ownership and contained the growth of social welfare programs. Agriculture is intensive, highly mechanized, and efficient by European standards, producing about 60% of food needs with only 1% of the labor force. The UK has large coal, natural gas, and oil reserves; primary energy production accounts for 10% of GDP, one of the highest shares of any industrial nation. 73.4%.
Statistics: Telephones - main lines in use: 34.878 million. Telephones - mobile cellular: 13 million. Radio broadcast stations: AM 219, FM 431, shortwave 3. Radios: 84.5 million. Television broadcast stations: 228 (plus 3,523 repeaters). Televisions: 30.5 million. Internet users: 33 million. Railways: Total: 16,878 km. Highways: Total: 371,603 km, all paved., Airports: 470, with paved runways: 332, with unpaved runways: 138. Heliports: 13.
Return to Visiting Locations