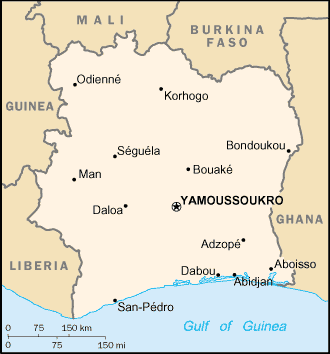 Ivory Coast (Cote d'Ivoire)
Background: Close ties to France since independence in 1960, the development of cocoa production for export, and foreign investment made Cote d'Ivoire one of the most prosperous of the tropical African states. Falling cocoa prices and political turmoil, however, sparked an economic downturn in 1999 and 2000. On 25 December 1999, a military coup - the first ever in Cote d'Ivoire's history - overthrew the government led by President Henri Konan Bedir. Presidential and legislative elections held in October and December 2000 provoked violence due to the exclusion of opposition leader Alassane OUATTARA. In October 2000, Laurent GBAGBO replaced junta leader Robert Guei as president, ending 10 months of military rule.
Location: Location: Western Africa, bordering the North Atlantic Ocean, between Ghana and Liberia. Map references: Africa Area: Total: 322,460 sq km, water: 4,460 sq km, land: 318,000 sq km. Area - comparative: Slightly larger than New Mexico Land boundaries: Total: 3,110 km, border countries: Burkina Faso 584 km, Ghana 668 km, Guinea 610 km, Liberia 716 km, Mali 532 km. Coastline: 515 km.
Climate and Terrain: Climate: Tropical along coast, semiarid in far north; three seasons - warm and dry (November to March), hot and dry (March to May), hot and wet (June to October). Terrain: Mostly flat to undulating plains; mountains in northwest.
People: Population: 16,804,784. Ethnic groups: Akan 42.1%, Voltaiques or Gur 17.6%, Northern Mandes 16.5%, Krous 11%, Southern Mandes 10%, other 2.8% (includes 130,000 Lebanese and 20,000 French). Religions: Christian 20-30%, Muslim 35-40%, indigenous 25-40%. Languages: French (official), 60 native dialects with Dioula the most widely spoken..
Government: Government type: Republic; multiparty presidential regime established 1960. Capital: Yamoussoukro; note - although Yamoussoukro has been the official capital since 1983, Abidjan remains the administrative center; the US, like other countries, maintains its Embassy in Abidjan. Independence: 7 August (1960) (from France).
Economy overview: Cote d'Ivoire is among the world's largest producers and exporters of coffee, cocoa beans, and palm oil. Consequently, the economy is highly sensitive to fluctuations in international prices for these products and to weather conditions. Despite government attempts to diversify the economy, it is still largely dependent on agriculture and related activities, which engage roughly 68% of the population.
Statistics: Telephones - main lines in use: 263,700. Telephones - mobile cellular: 450,000. Radio broadcast stations: AM 2, FM 9, shortwave 3. Radios: 2.26 million. Television broadcast stations: 14. Televisions: 1.09 million. Internet users: 10,000. Railways: Total: 660 km. Highways: Total: 50,400 km, paved: 4,889 km, unpaved: 45,511 km. Waterways: 980 km. Airports - with paved runways: 7, with unpaved runways: 29.
Detail Map and Info on Ivory Coast
Return to Visiting Locations