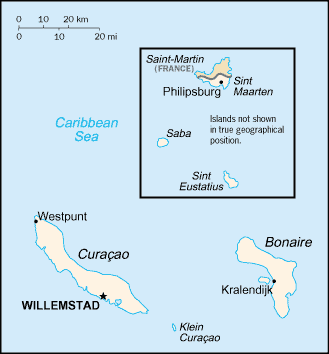 Netherlands Antilles
Background: Once the center of the Caribbean slave trade, the island of Curacao was hard hit by the abolition of slavery in 1863. Its prosperity (and that of neighboring Aruba) was restored in the early 20th century with the construction of oil refineries to service the newly discovered Venezuelan oil fields. The island of Saint Martin is shared with France; its northern portion is named Saint-Martin and is part of Guadeloupe, and its southern portion is named Sint Maarten and is part of the Netherlands Antilles.
Location: Location: Caribbean, two island groups in the Caribbean Sea - one includes Curacao and Bonaire north of Venezuela; the other is east of the Virgin Islands. Area: Total: 960 sq km, note: includes Bonaire, Curacao, Saba, Saint Eustatius, and Saint Maarten (Dutch part of the island of Saint Martin). Area - comparative: More than five times the size of Washington, DC. Land boundaries: Total: 10.2 km, border countries: Guadeloupe (Saint Martin) 10.2 km. Coastline: 364 km.
Climate and Terrain: Climate: Tropical; ameliorated by northeast trade winds. Terrain: Generally hilly, volcanic interiors. Natural resources: Phosphates (Curacao only), salt (Bonaire only.)
People: Population: 216,226 . Ethnic groups: Mixed black 85%, Carib Amerindian, white, East Asian. Religions: Roman Catholic, Protestant, Jewish, Seventh-Day Adventist. Languages: Dutch (official), Papiamento (a Spanish-Portuguese-Dutch-English dialect) predominates, English widely spoken, Spanish.
Government: Government type: Parliamentary Capital: Willemstad. Dependency status: Part of the Kingdom of the Netherlands; full autonomy in internal affairs granted in 1954; Dutch Government responsible for defense and foreign affairs.
Economy overview: Tourism, petroleum refining, and offshore finance are the mainstays of this small economy, which is closely tied to the outside world. Although GDP has declined or remained even in each of the past six years, the islands enjoy a high per capita income and a well-developed infrastructure compared with other countries in the region. Almost all consumer and capital goods are imported, the US and Mexico being the major suppliers. Poor soils and inadequate water supplies hamper the development of agriculture.
Statistics: Telephones - main lines in use: 76,000. Telephones - mobile cellular: 13,977. Radio broadcast stations: AM 9, FM 4. Radios: 217,000. Television broadcast stations: 3 (there is also a cable service, which supplies programs received from various US satellite networks and two Venezuelan channels). Televisions: 69,000. Internet users: 2,000. Highways: Total: 600 km, paved: 300 km, unpaved: 300 km. Airports - with paved runways: 5.
Return to Visiting Locations