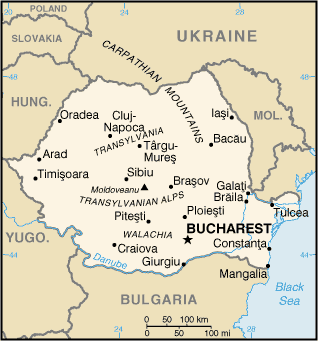 Romania
Background: Soviet occupation following World War II led to the formation of a Communist "peoples republic" in 1947 and the abdication of the king. The decades-long rule of dictator Nicolae CEAUSESCU and his Securitate police state became increasingly oppressive and draconian through the 1980s. CEAUSESCU was overthrown and executed in late 1989. Former communists dominated the government until 1996 when they were swept from power by a fractious coalition of center-right parties.
Location: Southeastern Europe, bordering the Black Sea, between Bulgaria and Ukraine. Area: Total: 237,500 sq km, land: 230,340 sq km, water: 7,160 sq km. Area - comparative: Slightly smaller than Oregon. Land boundaries: Total: 2,508 km, border countries: Bulgaria 608 km, Hungary 443 km, Moldova 450 km, Yugoslavia 476 km, Ukraine (north) 362 km, Ukraine (east) 169 km. Coastline: 225 km.
Climate and Terrain: Climate: Temperate; cold, cloudy winters with frequent snow and fog; sunny summers with frequent showers and thunderstorms. Terrain: Central Transylvanian Basin is separated from the Plain of Moldavia on the east by the Carpathian Mountains and separated from the Walachian Plain on the south by the Transylvanian Alps.
People: Population: 22,317,730. Ethnic groups: Romanian 89.5%, Hungarian 7.1%, Roma 1.8%, German 0.5%, Ukrainian 0.3%, other 0.8%. Religions: Romanian Orthodox 70%, Roman Catholic 6%, Protestant 6%, unaffiliated 18%. Languages: Romanian, Hungarian, German.
Government: Government type: Republic. Capital: Bucharest. Independence: 9 May 1877 (independence proclaimed from Turkey; independence recognized 13 July 1878 by the Treaty of Berlin; kingdom proclaimed 26 March 1881; republic proclaimed 30 December 1947).
Economy overview: Romania, one of the poorest countries of Central and Eastern Europe, began the transition from Communism in 1989 with a largely obsolete industrial base and a pattern of output unsuited to the country's needs. Over the past decade economic restructuring has lagged behind most other countries in the region. Consequently, living standards have continued to fall - real wages are down perhaps 40%. The country emerged in 2000 from a punishing three-year recession thanks to strong demand in EU export markets, and despite the global slowdown in 2001, strong domestic activity in construction, agriculture, and consumption led to 4.8% growth.
Statistics: Telephones - main lines in use: 3.777 million. Telephones - mobile cellular: 645,500. Radio broadcast stations: AM 40, FM 202, shortwave 3. Radios: 7.2 million. Television broadcast stations: 48 (plus 392 repeaters). Televisions: 5.25 million. Internet users: 800,000. Railways: Total: 11,385 km. Highways: Total: 153,359 km, paved: 103,671 km, unpaved: 49,688 km. Airports: 61, with paved runways: 24, with unpaved runways: 37. Heliports: 2.
Detail Map and Info on Romania
Return to Visiting Locations