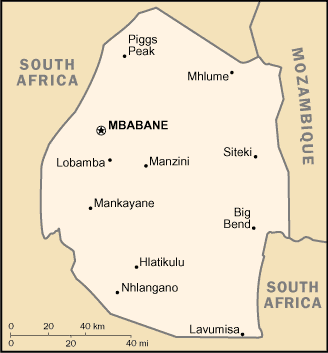 Swaziland
Background: The British guaranteed autonomy for the Swazis of southern Africa in the late 19th century; independence was granted 1968. Student and labor unrest during the 1990s have pressured the monarchy (one of the oldest on the continent) to grudgingly allow political reform and greater democracy.
Location: Location: Southern Africa, between Mozambique and South Africa. Area: Total: 17,363 sq km, water: 160 sq km, land: 17,203 sq km. Area - comparative: Slightly smaller than New Jersey. Land boundaries: Total: 535 km, border countries: Mozambique 105 km, South Africa 430 km. Coastline: 0 km (landlocked).
Climate and Terrain: Climate: Varies from tropical to near temperate. Terrain: Mostly mountains and hills; some moderately sloping plains. Natural resources: Asbestos, coal, clay, cassiterite, hydropower, forests, small gold and diamond deposits, quarry stone, and talc.
People: Population: 1,161,219. Ethnic groups: African 97%, European 3%. Religions: Zionist (a blend of Christianity and indigenous ancestral worship) 40%, Roman Catholic 20%, Muslim 10%, Anglican, Bahai, Methodist, Mormon, Jewish and other 30%. Languages: English (official, government business conducted in English), siSwati (official).
Government: Government type: Monarchy; independent member of Commonwealth. Capital: Mbabane; note - Lobamba is the royal and legislative capital. Independence: 6 September 1968 (from UK).
Economy overview: In this small, landlocked economy, subsistence agriculture occupies more than 80% of the population. The manufacturing sector has diversified since the mid-1980s. Sugar and wood pulp remain important foreign exchange earners. Mining has declined in importance in recent years with only coal and quarry stone mines remaining active. Surrounded by South Africa, except for a short border with Mozambique, Swaziland is heavily dependent on South Africa from which it receives nine-tenths of its imports and to which it sends more than two-thirds of its exports. Customs duties from the Southern African Customs Union and worker remittances from South Africa substantially supplement domestically earned income.
Statistics: Telephones - main lines in use: 38,500. Telephones - mobile cellular: 45,000. Radio broadcast stations: AM 3, FM 2 plus 4 repeaters, shortwave 3. Radios: 170,000. Television broadcast stations: 5 plus 7 relay stations. Televisions: 23,000. Internet users: 7,000. Railways: Total: 301 km. Highways: Total: 3,247 km. Airports - with paved runways: 1, with unpaved runways: 17.
Detail Map and Info on Swaziland
Return to Visiting Locations