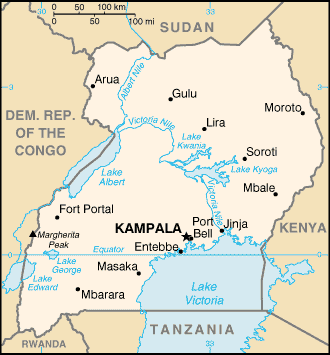 Uganda
Background: Uganda achieved independence from the UK in 1962. The dictatorial regime of Idi Amin (1971-79) was responsible for the deaths of some 300,000 opponents; guerrilla war and human rights abuses under Milton Obote (1980-85) claimed another 100,000 lives. During the 1990s the government promulgated non-party presidential and legislative elections.
Location: Eastern Africa, west of Kenya. Area: total: 236,040 sq km water: 36,330 sq km land: 199,710 sq km Area - comparative: slightly smaller than Oregon Land boundaries: Total: 2,698 km, border countries: Democratic Republic of the Congo 765 km, Kenya 933 km, Rwanda 169 km, Sudan 435 km, Tanzania 396 km. Coastline: 0 km (landlocked).
Climate and Terrain: Climate: Tropical; generally rainy with two dry seasons (December to February, June to August); semiarid in northeast. Terrain: Mostly plateau with rim of mountains. Natural resources: Copper, cobalt, hydropower, limestone, salt, arable land.
People: Population: 24,699,073. Ethnic groups: Baganda 17%, Ankole 8%, Basoga 8%, Iteso 8%, Bakiga 7%, Langi 6%, Rwanda 6%, Bagisu 5%, Acholi 4%, Lugbara 4%, Batoro 3%, Bunyoro 3%, Alur 2%, Bagwere 2%, Bakonjo 2%, Jopodhola 2%, Karamojong 2%, Rundi 2%, non-African (European, Asian, Arab) 1%, other 8%. Religions: Roman Catholic 33%, Protestant 33%, Muslim 16%, indigenous beliefs 18%. Languages: English (official national language, taught in grade schools, used in courts of law and by most newspapers and some radio broadcasts), Ganda or Luganda (most widely used of the Niger-Congo languages, preferred for native language publications in the capital and may be taught in school), other Niger-Congo languages, Nilo-Saharan languages, Swahili, Arabic.
Government: Government type: Republic. Capital: Kampala. Independence: 9 October 1962 (from UK.)
Economy overview: Uganda has substantial natural resources, including fertile soils, regular rainfall, and sizable mineral deposits of copper and cobalt. Agriculture is the most important sector of the economy, employing over 80% of the work force. Coffee is the major export crop and accounts for the bulk of export revenues. Since 1986, the government - with the support of foreign countries and international agencies - has acted to rehabilitate and stabilize the economy by undertaking currency reform, raising producer prices on export crops, increasing prices of petroleum products, and improving civil service wages. The policy changes are especially aimed at dampening inflation and boosting production and export earnings.
Statistics: Telephones - main lines in use: 50,074. Telephones - mobile cellular: 9,000. Radio broadcast stations: AM 7, FM 33, shortwave 2. Radios: 5 million. Television broadcast stations: 8 (plus one low-power repeater). Televisions: 500,000. Internet users: 25,000. Railways: Total: 1,241 km. Highways: Total: 27,000 km, paved: 1,800 km, unpaved: 25,200 km. Airports: 27, with paved runways: 4, with unpaved runways: 3.
Detail Map and Info on Uganda
Return to Visiting Locations