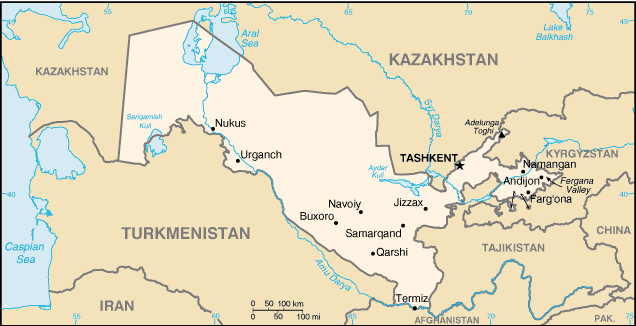 Uzbekistan
Background: Russia conquered Uzbekistan in the late 19th century. Stiff resistance to the Red Army after World War I was eventually suppressed and a socialist republic set up in 1924. During the Soviet era, intensive production of "white gold" (cotton) and grain led to overuse of agrochemicals and the depletion of water supplies, which have left the land poisoned and the Aral Sea and certain rivers half dry. Independent since 1991, the country seeks to gradually lessen its dependence on agriculture while developing its mineral and petroleum reserves.
Location: Location: Central Asia, north of Afghanistan Area: Total: 447,400 sq km, water: 22,000 sq km, land: 425,400 sq km. Area - comparative: Slightly larger than California. Land boundaries: Total: 6,221 km, border countries: Afghanistan 137 km, Kazakhstan 2,203 km, Kyrgystan 1,099 km, Tajikistan 1,161 km, Turkmenistan 1,621 km..
Detail Map and Info on Uzbekistan
Return to Visiting Locations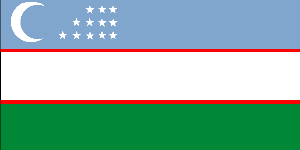 Climate and Terrain: Climate: Mostly midlatitude desert, long, hot summers, mild winters; semiarid grassland in east. Terrain: Mostly flat-to-rolling sandy desert with dunes; broad, flat intensely irrigated river valleys.
People: Population: 25,563,441. Ethnic groups: Uzbek 80%, Russian 5.5%, Tajik 5%, Kazakh 3%, Karakalpak 2.5%, Tatar 1.5%, other 2.5%. Religions: Muslim 88% (mostly Sunnis), Eastern Orthodox 9%, other 3%. Languages: Uzbek 74.3%, Russian 14.2%, Tajik 4.4%, other 7.1%.
Government: Government type: Republic; authoritarian presidential rule, with little power outside the executive branch. Capital: Tashkent. Independence: 1 September 1991 (from Soviet Union).
Economy overview: Uzbekistan is a dry, landlocked country of which 11% consists of intensely cultivated, irrigated river valleys. More than 60% of its population lives in densely populated rural communities. Uzbekistan is now the world's second largest cotton exporter, a large producer of gold and oil, and a regionally significant producer of chemicals and machinery.
Statistics: Telephones - main lines in use: 1.98 million. Telephones - mobile cellular: 26,000. Radio broadcast stations: AM 20, FM 7, shortwave 10. Radios: 10.8 million. Television broadcast stations: 4 (plus two repeaters that relay Russian, Kazakh, Kyrgyz, and Tajik programs). Televisions: 6.4 million. Internet users: 7,500. Railways: Total: 3,656 km. Highways: Total: 81,600 km, paved: 71,237 km, unpaved: 10,363 km. Airports - with paved runways: 10, with unpaved runways: 257.