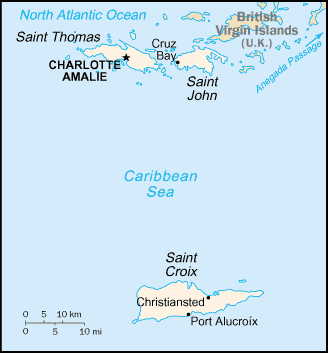 Go to Detail Map of Virgin Islands (US)
Virgin Islands (U.S.)
Background: During the 17th century, the archipelago was divided into two territorial units, one English and the other Danish. Sugarcane, produced by slave labor, drove the islands' economy during the 18th and early 19th centuries. In 1917, the US purchased the Danish portion, which had been in economic decline since the abolition of slavery in 1848.
Location: Caribbean, islands between the Caribbean Sea and the North Atlantic Ocean, east of Puerto Rico. Area: Total: 352 sq km, water: 3 sq km, land: 349 sq km. Area - comparative: Twice the size of Washington, DC. Coastline: 188 km.
Climate and Terrain: Climate: Subtropical, tempered by easterly trade winds, relatively low humidity, little seasonal temperature variation; rainy season May to November. Terrain: Mostly hilly to rugged and mountainous with little level land. Elevation extremes: Lowest point: Caribbean Sea 0 m, highest point: Crown Mountain 474 m. Natural resources: Sun, sand, sea, surf.
People: Population: 123,498. Ethnic groups: Black 80%, white 15%, other 5% note: West Indian (45% born in the Virgin Islands and 29% born elsewhere in the West Indies) 74%, US mainland 13%, Puerto Rican 5%, other 8%. Religions: Baptist 42%, Roman Catholic 34%, Episcopalian 17%, other 7%. Languages: English (official), Spanish, Creole.
Government: Dependency status: Organized, unincorporated territory of the US with policy relations between the Virgin Islands and the US under the jurisdiction of the Office of Insular Affairs, US Department of the Interior. Capital: Charlotte Amalie.
Economy overview: Territory of the US); there are no first-order administrative divisions as defined by the US Government, but there are three islands at the second order; Saint Croix, Saint John, Saint Thomas Tourism is the primary economic activity, accounting for more than 70% of GDP and 70% of employment. The islands normally host 2 million visitors a year. The manufacturing sector consists of petroleum refining, textiles, electronics, pharmaceuticals, and watch assembly. The agricultural sector is small, with most food being imported. International business and financial services are a small but growing component of the economy. One of the world's largest petroleum refineries is at Saint Croix. The islands are subject to substantial damage from storms. The government is working to improve fiscal discipline, support construction projects in the private sector, expand tourist facilities, reduce crime, and protect the environment.
Statistics: Telephones - main lines in use: 62,000. Telephones - mobile cellular: 2,000. Radio broadcast stations: AM 5, FM 11, shortwave 0. Radios: 107,000. Television broadcast stations: 2. Televisions: 68,000. Internet users: 12,000. Railways: 0 km. Highways: Total: 856 km. Airports - with paved runways: Total: 2.
Return to Visiting Locations