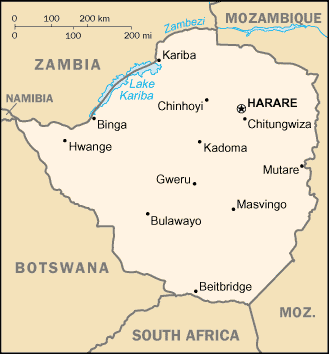 Zimbabwe
Background: The UK annexed Southern Rhodesia from the South Africa Company in 1923. A 1961 constitution was formulated that favored whites in power. In 1965 the government unilaterally declared its independence, but the UK did not recognize the act and demanded more complete voting rights for the black African majority in the country (then called Rhodesia). UN sanctions and a guerrilla uprising finally led to free elections in 1979 and independence (as Zimbabwe) in 1980. Robert Mugabe, the nation's first prime minister, has been the country's only ruler (as president since 1987) and has dominated the country's political system since independence. 1990.
Location: Southern Africa, between South Africa and Zambia Area: Total: 390,580 sq km water: 3,910 sq km land: 386,670 sq km Area - comparative: Slightly larger than Montana Land boundaries: Total: 3,066 km border countries: Botswana 813 km, Mozambique 1,231 km, South Africa 225 km, Zambia 797 km
Climate and Terrain: Climate: Tropical; moderated by altitude; rainy season (November to March) Terrain: Mostly high plateau with higher central plateau (high veld); mountains in east
People: Population: 11,376,676 Ethnic groups: African 98% (Shona 82%, Ndebele 14%, other 2%), mixed and Asian 1%, white less than 1% . Religions: syncretic (part Christian, part indigenous beliefs) 50%, Christian 25%, indigenous beliefs 24%, Muslim and other 1%. Languages: English (official), Shona, Sindebele (the language of the Ndebele, sometimes called Ndebele), numerous but minor tribal dialects.
Government: Government type: Parliamentary democracy. Capital: Harare. Independence: 18 April 1980 (from UK).
Economy overview: The government of Zimbabwe faces a wide variety of difficult economic problems as it struggles to consolidate earlier moves to develop a market-oriented economy. Its involvement in the war in the Democratic Republic of the Congo, for example, has already drained hundreds of millions of dollars from the economy. Badly needed support from the IMF has been suspended because of the country's failure to meet budgetary goals. Inflation rose from an annual rate of 32% in 1998 to 59% in 1999, to 60% in 2000, and to 100% by yearend 2001. The economy is being steadily weakened by excessive government deficits, AIDS, and rampant inflation.
Statistics: Telephones - main lines in use: 212,000 (in addition, there are about 20,000 fixed telephones in wireless local loop connections). Telephones - mobile cellular: 111,000. Radio broadcast stations: AM 7, FM 20. Radios: 1.14 million. Television broadcast stations: 16. Televisions: 370,000. Internet users: 30,000. Railways: Total: 3,077 km. Highways: Total: 18,338 km paved: 8,692 km unpaved: 9,646 km. Airports - with paved runways: 17, with unpaved runways: 437.
Detail Map and Info on Zimbabwe
Return to Visiting Locations