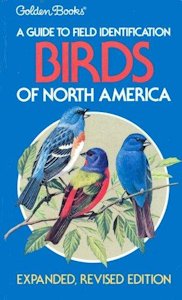 Golden Books - A Guide to Field Identification
Birds of North America
We think that this book ranks very well for amateur birders. It costs $13.95 USD ($19.95 Canada). The book has some 360 pages with very good illustrations and information about each individual bird. The book measures 4.5 by 7.5 inches and is a 5/8 inch thick, a little easier to carry in your pocket. You need to have your books updated from time to time. The book shows about 650 North American birds with lavishly full color illustrations, range maps and detailed descriptions including call and song descriptions. It shows an additional 60 species, such as seabirds from the southern hemisphere and land birds from eastern Asia, Mexico, and the West Indies, that migrate or wander regularly to North America. About 100 foreign species stray occasionally into our region, especially in western Alaska, extreme southern Unites States, Newfoundland, or Greenland. They have included those considered most likely to occur again.
Example of Full Color Illustrations, Descriptions and Range Maps
Return to Bird Book Choices