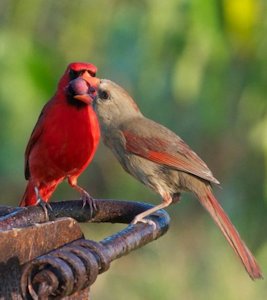 Bird Courtship Feeding
Courtship feeding is a common behavior that cements the pair-bond between mated birds. The male offers a tidbit of food to the female, sometimes at the nest site if it has already been chosen, The male Northern Cardinal offers sees to its mate, placing the seed in the female's bill. Many male gulls bring food to the nest site in an island colony, regurgitating a half-digested mixture of fish and squid at the feet of the females, who eagerly accept the gift.
Courtship feeding is most pronounced, and often most exciting to watch, in birds of prey. The male American Kestrel brings food to a perch on the territory, usually near the nest site. It announces the offering with a call and a fluttering flight. The female follows the male, and they perch side by side, bowing their heads several times before the female takes the mouse or large insect from the talons of the mate.
The male Snowy Owl of arctic tundra regions catches a lemming (a large, brown rodent) in its talons and carries the food in its bill to a mound within sight of the female. Then, standing on the mound and facing the female, with wings displayed behind like a cape, the male offers the dark gift of food, which is dramatically outlined against the background of its snow-white plumage.
In the case of the Northern Harrier, the food transfer takes place in midair. The male calls the female to fly out to meet it and then passes the prey -- a mouse, snake, or small bird -- from its talons to those of its mate. Sometimes the female flies below the male, turning over to grasp the prey dropped from above.