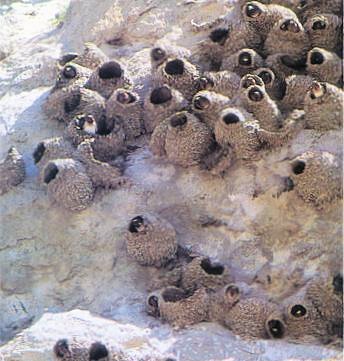 Bird Colonial Nesting
In many species, including herons, swallows, and most seabirds, individual birds come together each year to build nests near the nests of many others of the species. The resulting aggregations are called nesting colonies. Colonial nesting involves a number of factors. Seabirds, for example, often forage widely over the ocean surface, where the only available nesting land may be an island of limited area. The birds may also prefer an island to mainland nesting sites because it is safer, being inaccessible to most land predators. Also, by watching their neighbors returning to the colony with food for their chicks, colony-nesting gulls, or puffins may learn from one another where they can forage most successfully. Bank and Cliff Swallows, for example, build their nests in sites protected from ground predators such as foxes, skunks, and weasels.
Because residents in a colony usually share their feeding sites, colonial nesters are not, strictly speaking, territorial birds. They do, however, defend their nests against the adjacent birds, and with good reason: Colony members are known to sometimes steal nesting material from one another. They have also been known to sneak eggs into other birds' nests and to seduce other birds' mates. On the positive side, a few colony nesters have been known, on rare occasions, to feed another neighbor's chicks.