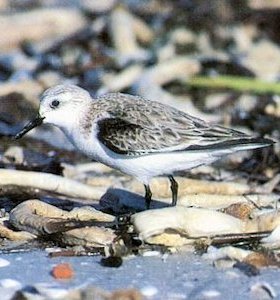 Establishing and Defending Birds' Territories
Walking along the seashore beach of Assateague Island, Maryland, in September, you find a solitary Sanderling feeding in the surf. It runs to the base of a receding wave, sticks its bill into the sand, then scurries away just in time to avoid the next crashing wave. Fifty yards up the beach you spy another. It repeats the same behavior, looking not too different from a windup toy. Beyond it there is another, and another beyond that one. Each bird is "alone" and each is separated from its neighbor by about the same distance. As you continue up the beach, each bird moves along in front of you, but just so far. Before it reaches the next bird, it stops, hesitates, and then flies in a wide circuit out over the waves, returning to the point you just passed. It is as if you never went by. If the next bird goes a bit too far, it transgresses the boundary of its neighbor's feeding territory, and there is suddenly a fight.
This illustrates extremes in the spacing behavior of common birds, Blackbirds flock, and Sanderlings defend territories. The bird world is full of both behaviors: A band of raucous crows flies silhouetted against a cold winter sky above a cornfield in eastern Pennsylvania; Red-tailed Hawks battle over a territorial boundary in Ohio; hundreds of Barn Swallows perch upon a wire, each delicately positioned just far enough away from its neighbor to be out of reach; a Gray Catbird in the midst of a New York forest stakes out a private breeding territory with its constant melodious song.
Spacing behaviors govern the distances between individual birds. All birds indulge in some forms of spacing behavior. While some birds flock and others defend territories, many birds switch between different styles, in different circumstances. A male Red-winged Blackbird does not tolerate another male on its nesting territory during the breeding season. But Sanderlings may suddenly abandon their territories and form a flock if a Peregrine Falcon flies overhead searching for prey. Often in the very same site you can observe individuals of the same species behaving in different ways, some being territorial, others not. These individual variations are especially prevalent on territories away from the breeding ground, as in Sanderlings on winter beaches.