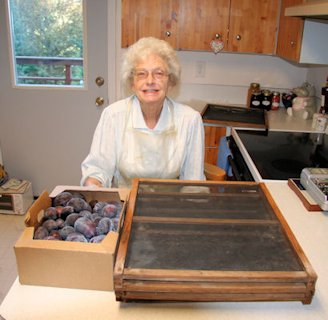 Dried Prunes Procedure

Prunes

Dehydrator

Some information: All prunes are plums. Not all plums are prunes.
Explanation: All prunes can be canned as plums, but not all plums can be used as prunes. Some plums do amend themselves to be dried and treated as prunes.

In order to appeal to a younger market, the California Prune Board began to pressure the Food and Drug Administration to change the name of prunes to dried plums. The name change became official in 2000. Hence, dried plums typically marketed in the US are actually prunes with a new name. These dried plums are usually of the European type, called the d'Agen plum, the European or the Italian plum.
The name change to dried plums exists for the US only, at this point. This is because the European diet tends to welcome and include prunes. They do not have the same connotations in Europe as they do in the US that would make them unappealing to younger consumers. Thus dried plums in Europe are still simply prunes.
The name change in dried plums has led to increased sales among younger people in the US. So if Shakespeare wondered "what's in a name?," it appears he could have been answered that dried plums may taste as sweet as prunes but are more popular.
Back to Drying Choices
Back to Home Page