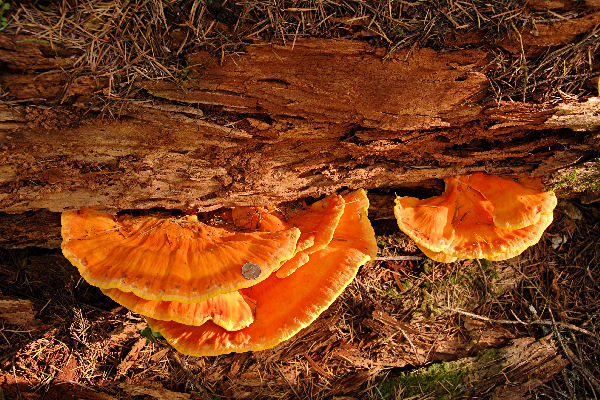 Wildflowers Found in Oregon
Chicken Mushroom - "Sulfur Shelf"
Laetiporus sulphureus - Description: Single to overlapping clusters of fleshy, smooth, orange-red to red-orange caps with sulfur-yellow pores. Season: May-November, Habitat: On stumps, trunks, and logs of living trees and buried roots. Range: Pacific NW south to California. This popular mushroom can grow in large overlapping clusters of 5 to 50 or more, with shelfs weighing up to a pound each, or in rosettes 10-30" wide. Reported a choice edible, it tastes like chicken. It becomes inedible as it ages and causes an allergic reaction, such as swollen lips. Specimens from some tree hosts, such as eucalyptus, can cause digestive upset.
On to Next Flower ⇨
Hi-Res Pic (329K)
Another Hi-Res Pic (192K)