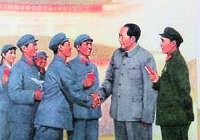 The Soviet revisionist renegade clique has completely betrayed these brilliant teachings of Lenin's. From Khrushchev to Brezhnev and company, they are all persons in power taking the capitalist road, who had long concealed themselves in the Communist Party of the Soviet Union. As soon as they came to power, they turned to the bourgeoisie's "hope of restoration". into "attempts at restoration", usurped the leadership of the Party of Lenin and Stalin and, through "peaceful evolution", turned the world's first state under the dictatorship of the proletariat into a dark fascist state under the dictatorship of the bourgeoisie.
Chairman Mao has waged a tit-for-tat struggle against modern revisionism with the Soviet revisionist renegade clique as its centre and has inherited, defended and developed the Marxist-Leninist theory of proletarian revolution and the dictatorship of the proletariat. Chairman Mao has comprehensively summed up the historical experience, both positive and negative, of the dictatorship of the proletariat and in order to prevent the restoration of capitalism, has put forward the theory of continuing the revolution under the dictatorship of the proletariat.

As early as March 1949, on the eve of the transition of the Chinese Revolution from the new-democratic revolution to socialist revolution, Chairman Mao explicitly pointed out in his report tot he Second Plenary Session of the Seventh Central Committee of the Party: After the country-wide seizure of power by the proletariat, the principal internal contradiction is "the contradiction between the working class and the bourgeoisie." The heart of the struggle is still the question of state power. Chairman Mao especially reminded us:

After the enemies with guns have been wiped out, there will still be enemies without guns; they are bound to struggle desperately against us, and we must never regard these enemies lightly. If we do not now raise and understand the problem this way, we shall commit the gravest mistakes.

Having foreseen the protracted and complex nature of the class struggle between the proletariat and the bourgeoisie after the establishment of the dictatorship of the proletariat, Chairman Mao set the whole party the militant task of fighting imperialism, the Kuomintang and the bourgeoisie in the political, ideological, economic, cultural, and diplomatic spheres.
On to Preparation - Page 4
Back to Preparation - Page 2
Back to Lin Biao's Speech Choices