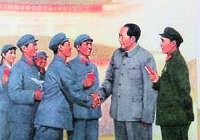 Liu Shao-chi preached that "at the present the main form of the struggle of the Chinese revolution has changed from armed struggle to non-armed and mass parliamentary struggle." He tried to abolish the Party's leadership over the people's armed forces and to "unify" the Eighth Route Army into Chiang's "national army" and to demobilize large numbers of worker and peasant soldiers led by the Party in a vain attempt to eradicate the people's armed forces, strangle the Chinese revolution and obediently hand over to the Kuomintang the fruits of victory which the Chinese people had won in blood.
In April 1949, on the eve of the countrywide victory of China's new-democratic revolution when the Chinese People's Liberation Army was preparing to cross the Yangtse River, Liu Shao-chi hurried to Tientsin and threw himself into the arms of the capitalists. He fiercely opposed the policy decided utilizing, restricting and transforming private capitalist industry, a policy decided upon by the Second Plenary Session of the Seventh Central Committee of the Party which had just concluded.

He clamoured that "capitalism in China today is still in its youth", that it needed an unlimited "big expansion" and that "capitalist exploitation today is no crime, it is a merit." He shamelessly praised the capitalist class, saying that "the more they exploit, the greater their merit". and feverishly advertised the revisionist theory of productive forces. He did all this in his futile attempt to lead China onto the capitalist road.

In short, at the many important historical junctures of the new-democratic revolution and the socialist revolution, Liu Shao-chi and his gang always wantonly opposed Chairman Mao's proletarian revolutionary line and engaged in counter-revolutionary conspiratorial and disruptive activities. However, since they were counter-revolutionaries, their plots were bound to come to light eventually. When Khrushchev came to power, and especially when the Soviet revisionists ganged up with the U.S. imperialists and the reactionaries of India and other countries in whipping up a large-scale anti-China campaign, Liu Shao-chi and his gang became all the more rabid.
On to Preparation - Page 7
Back to Preparation - Page 5
Back to Lin Biao's Speech Choices