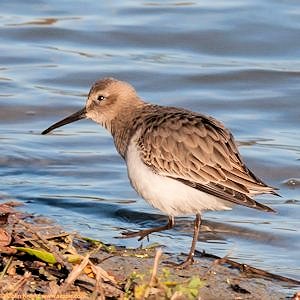 Extremes within a Bird Family - Page 2
Dunlins breed across the Arctic and are common in western and northern Alaska. The Dunlin is an excellent example of a monogamous species. The male arrives from its winter site in early June and immediately starts defending a territory. Within a week, the female, who might be his mate from the previous year, has joined him. Together they build a nest and incubate eggs. The male incubates at night, and the female generally takes the day shift. When the eggs have hatched, the parents once again divide their duties, and the family remains together for several weeks while the young learn to fly. Semipalmated, Stilt, and Western Sandpipers are also monogamous.
At the other extreme are promiscuous Pectoral and Buff-breasted Sandpipers. The Pectoral Sandpiper mates on huge territories spread broadly over the tundra's wet surface. A male Pectoral Sandpiper displays at virtually anything entering its territory that remotely resembles a female. Moreover, the Pectoral male is a bully who never ceases in its amorous advances to females, regardless of whether they are receptive or not. Sometimes as many as ten males pursue a female in flight, chasing it for half an hour or more. By the time the eggs hatch, all the local males have left the Arctic, headed south in migration to wintering grounds in Argentina. Who could imagine their antics in the Arctic when seeing them in quiet flocks in a Minnesota marsh as they pause along the way in the wetlands of the lower 48 states?
Female Pectoral Sandpipers are no more virtuous. They may dally with the male on whose territory they nest or may visit any of the male's neighbors. Within one clutch, a female Pectoral Sandpiper may have eggs sired by several different males.