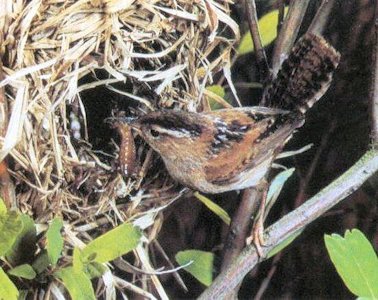 Bird Courtship Nests
Some species use other methods to attract mates or develop pair-bonds. The male Marsh Wren builds several almost spherical courting nests that are lashed into stands of sedges or cattails. each nest is sturdily woven of grasses and contains a small side entrance. While the male sings and displays, the female enters its territory and inspects the nests. If the female accepts the male, it adds a lining to one of the courtship nests to prepare it for a clutch of eggs. The female may judge a male's potential as a mate by the number and quality of his nests.
Left: A male Marsh Wren delivers a dragonfly nymph to its hungry nestings. Male Marsh Wrens build several nests within its territory. You will seldom see them far from cattails, rushes,, sedges, or tall marsh grasses.