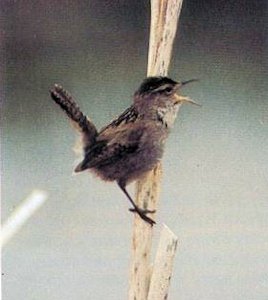 Bird Courtship Singing
Although territorial display and singing are restricted to the male in many species, there are some species in which both sexes sing. Male and female Northern Cardinals both sing beautifully, and perform counter-singing during courtship and early pair formation. Perching in different areas of the territory, the two birds alternate their singing, with one echoing the phrases of the other.
Left: A male Marsh Wren, such as the one the left, may sing during the night as well as the day. Singing may function to attract mates, to define territorial boundaries, and to keep other males away.