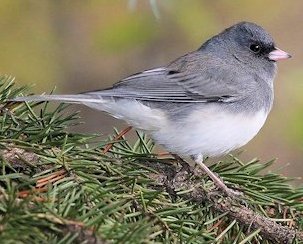 Evolution of Bird Migration
Bird migration is a behavior that has evolved over many thousands of years. Scientists believe that migration began to evolve when individuals that moved from one area to another ultimately produced more young than those that remained in one area. Migratory behavior continues to evolve because of the changing environment in which the birds live: If environmental conditions favor migration, the number of birds that migrate increases; if conditions permit the birds to stay in one place, the sedentary type predominates. A good example of such adaptive behavior is a migratory North American bird called the Dark-eyed Junco. It was undoubtedly some of these migrants gone astray that colonized Guadeloupe Island, some 150 miles off the coast of Baja California, where the junco is now established as a sedentary population.
Similarly, if less dramatically, populations of White-crowned and Savannah sparrows along the Pacific Coast of California have abandoned the migratory habit. Just as the power flight has disappeared when the need for it, so has the tendency to migrate disappeared when it is no longer an advantage.

By human standards, evolution is an excruciatingly slow process. Sometimes, however, changes in migratory habits occur so rapidly that we may actually see them in action. In the early 1940s, some House Finches from a nonmigratory population in California were released on Long Island, New York. Once established in the East Coast's far more seasonally variable climate, the birds began to develop a migratory pattern. The eastern House Finch has since become partially migratory and has spread throughout the Northeast. Some individuals are resident the year around, while others regularly migrate back and forth to the Gulf States.