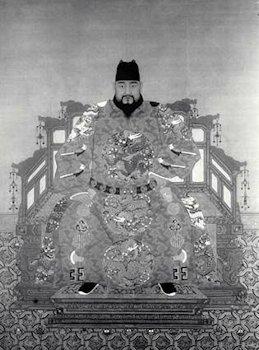 Ying Zong, Zhu Qizhen,
1436 - 1450 and 1457 - 1464,
Emperor Ming Dynasty
The presumed son of Emperor Xuanzong, Emperor Yingzong (Zhu Qizhen) reigned for over thirty years. He had a second line of defense (the interior Great Wall) constructed. Having been kept a prisoner in 1450, by the Mongols after an unsuccessful expedition in the north, he was sequestered for several years on his return to Nanking. The expedition launched in 1449 by the eunuch Wang Zhen with the participation of the young Emperor Yingzong. Because of their inexperience in the art of warfare, the expedition resulted in a fiasco. The leader of the Oirats, Esen captured the emperor at Tuma (Hebei). He remained a prisoner until 1457 when he was able, with much difficulty, to reclaim his throne by unseating his brother Daizong.
On to the Next Emperor
Back to Ming Dynasty Emperors Page 1